Vicky Hamilton tape given to her father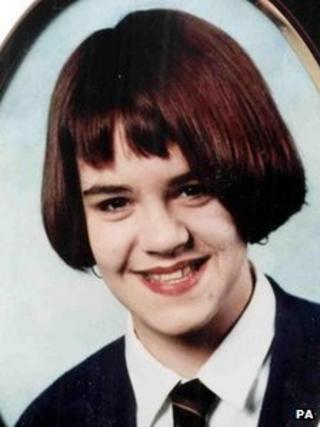 The father of murdered schoolgirl Vicky Hamilton has been reunited with some of her possessions almost 21 years after she went missing.
Among the items is a tape recording of Vicky's voice that Michael Hamilton, from Redding near Falkirk, did not know existed.
The purse, jewellery and pictures are what the 15-year-old had with her when she disappeared in February 1991.
Peter Tobin was convicted of Vicky's murder in 2008.
The schoolgirl's body was found in 2007 - along with the remains of 18-year-old Dinah McNicol - buried in the garden of Tobin's former home in Margate, Kent.
Tobin, of Johnstone, Renfrewshire, is serving three life sentences for murdering the two teenagers and 23-year-old Polish student Angelika Kluk.
Vicky was waiting for a bus in Bathgate, West Lothian, when she went missing.
The tape given to 61-year-old Mr Hamilton is a recording of his daughter laughing and singing as she revised for a biology exam, according to a report in the Daily Record.
The purse is the crucial piece of evidence that helped convict Tobin of Vicky's murder. It is was found lying in a gutter in the centre of Edinburgh, 11 days after she disappeared.
It is thought Tobin dumped it near the city's main railway station in a bid to fool police into thinking that Vicky had run away.
But a forensic examination of the purse later found DNA belonging to Tobin's son, linking him to the murder.