Strathblane school could host police station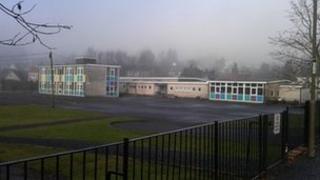 A Scottish police force is considering moving one of its community stations into a village school to save money.
The arrangement would lead to the closure of the Blanefield Police Office, with an officer working instead from nearby Strathblane Primary School.
Stirling Council and Central Scotland Police said saving money was an "important driver" for the plan.
Police access to the school would be via a dedicated door, away from staff and pupils, the school said.
A "help point" intercom would also be fitted somewhere on the school premises.
Several parents of pupils have raised concerns about loss of space and members of the public using the building during school hours.
Arrests
But in a letter to parents, the school's head teacher Sandra Logan said the police office would only take up a "small amount of space" that was not currently being used.
The letter continued: "The police 'presence' will allow direct access from outside via a door that is away from that used by staff and pupils to ensure a level of separation."
And Ch Insp Kevin Findlater, from Central Scotland Police, said there was no chance of the community officer, PC David McNally, bringing suspects to the school after arresting them.
"We no longer take arrested persons to small police stations. We take them to Stirling," he said.
"They can't even go to Balfron. Legally, we don't have the facilities to deal with them. This is especially so for Blanefield - and has been for a long time."
The officer told a public meeting in the village that Blanefield Police Office was in poor condition and not fit for purpose.
"Blanefield [office] has no real future and that's the reality," he said, adding: "There's a strong will to do this."
A spokeswoman for Stirling Council told BBC Scotland the police office would be in the old janitor's room
"It's just a touch-down area for the policeman to log on to his computer and make a cup of tea," she said.
Parents consulted
The proposal is part of the Forth Valley Property Asset Strategy, which aims to save public bodies money by finding ways they can share facilities.
Stirling Council said Buchlyvie School already allowed Forth Valley Health Board to use some of its space under the initiative - but this would be the first primary school to host a police station.
Parents are to be consulted on the plans, but the school's head teacher said she hoped the office could open as early as April if the community was supportive.
Ms Logan added: "Whilst financial savings are an important driver in this it is important that it is not seen as the sole reason.
"Having police officers associated with schools has been positively received in other communities and the location of the primary school is nearer to the heart of public services so, I would hope, more readily available for members of the community."