Dundee man jailed for 'vicious' attack on grandmother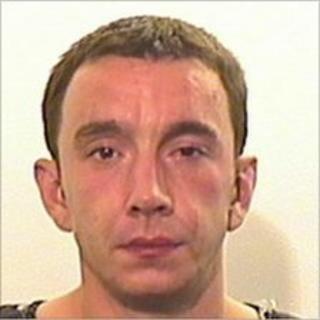 A drug addict who battered an 84-year-old grandmother in her home during a robbery has been jailed for five years and six months.
Jason Forrest, 31, forced his way into Catherine Henderson's Dundee home, knocking her over and repeatedly punching her during the assault.
He admitted assaulting and robbing the widow in her flat on 17 September 2011 last year.
The judge condemned it as an "utterly cowardly and vicious attack".
The High Court in Edinburgh heard that during the assault the victim, who had been getting ready for bed, pleaded with the hooded robber: "Don't you think you have done enough to me?"
'Feared for life'
She had opened the door to Forrest believing it might be her grandson, but was met by a hooded intruder.
Mrs Henderson, who was wearing only her dressing gown, was pushed and landed on her back in the hall of her flat in Dundee.
Advocate depute Richard Goddard: "He sat on her and repeatedly punched her on the head and body whilst pulling at her dressing gown.
"She screamed for help and the accused put his hands around her neck preventing her from making any sound. She feared for her life."
The unemployed heroin addict demanded to know where her money was as he punched her, and she revealed it was in a bedroom drawer.
'Horrific crime'
Forrest took about £80 before leaving the flat on Stirling Street in Dundee's Hilltown.
He was caught after a neighbour of the victim called police saying she believed Forrest was the perpetrator. Forrest was detained three days after the attack and found to have abrasions on his face with DNA that matched the victim.
Defence counsel Jonathan Crowe said: "There is no escaping this was a horrific crime against a defenceless lady."
He said Forrest was homeless at the time, taking more and more heroin and had little recollection of the events.
Judge Lord Bannatyne pointed out that Forrest had an extensive criminal record, including four convictions for assault and 15 for shoplifting, and told him he would have faced more than seven years in prison but for his early guilty plea.
He added: "This was a truly appalling crime in my view. It involves an assault and robbery on an elderly lady in her own home. She was in her own home where she had every right to believe she was safe."