Criminal 'tryst' officer Paula Wales cleared of neglect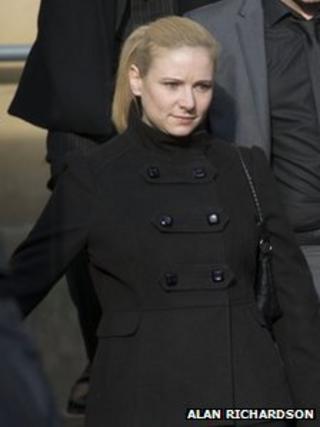 A police officer who had a late night tryst with a wanted criminal has been cleared of neglecting her duty.
Tayside Police officer Paula Wales was found not guilty after a sheriff decided she did not know John Sheridan was wanted on a warrant when they met.
Senior officers will now decide whether PC Wales - who has been suspended on full pay for almost two years - will face internal disciplinary action.
The 36-year-old, from Dundee, had denied the charge.
A trial at Dundee Sheriff Court heard how PC Wales - a local intelligence officer based at the force's Dundee HQ - developed an "infatuation" with Mr Sheridan after becoming friends with him on Facebook, more than 18 years after they had last seen each other at school.
They exchanged messages before arranging to meet in December 2009.
PC Wales went round to Mr Sheridan's mother's home, in the Lochee area of Dundee, after a work night out - where the court heard they "snogged" before the officer left to meet her on-off boyfriend, Ch Insp Sandy Brodie.
'Schoolgirl crush'
Fellow officers had warned PC Wales - described in court as "bubbly and chatty" and a "cracking cop" - not to associate with Mr Sheridan - branding him a "known criminal".
But the pair exchanged phone numbers - with PC Wales developing a "schoolgirl crush" on the 37-year-old, the trial heard.
PC Angela McGregor, who was tasked with executing the means warrant from Oban Sheriff Court against Mr Sheridan, told the court she thought she had told PC Wales that she was trying to apprehend Mr Sheridan on a warrant.
But Sheriff Richard McFarlane told PC Wales there was "no direct evidence" she had known the warrant existed.
He said: "I am satisfied that you knew the mobile number and whereabouts of Mr Sheridan at the material time.
"But I'm not satisfied that you were aware of the existence of the warrant.
"In all the circumstances I conclude that I must find you not guilty. You are free to go."
PC Wales was found not guilty of wilfully neglecting her duty between 27 November 2009 and 11 April 2010 contrary to the Police (Scotland) Act.
A spokesman for Tayside Police said: "We acknowledge the verdict of the Sheriff McFarlane in Dundee today.
"The matter will now be referred to the Deputy Chief Constable for further consideration."