'Sell home' order for Scout leader who abused boys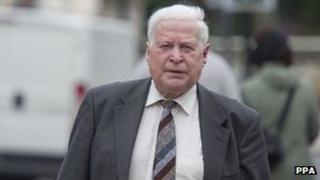 A 78-year-old former Scout leader has been told by a sheriff to sell his home so he can pay compensation to the children he abused 40 years ago.
David McDonald was also warned he would have to pay up quickly to stop him avoiding justice by dying before his victims were compensated.
Sheriff Lindsay Foulis gave McDonald less than a month to collate his full worth and report back to the court.
The pensioner earlier admitted abusing members of his troop in Coupar Angus.
Sheriff Foulis told him he was not ruling out jailing him for the "gross breach of trust", but was investigating the only other option for sentencing him.
'Blighted' lives
"It seems to me a way of dealing with this is by finding out exactly what your client is worth," he told solicitor Rosemary Scott, adding: "and I mean everything.
"I would put consideration to making very significant compensation orders. In addition I would make a very significant fine.
"If it means your client has to sell his house then so be it, because these offences may be old and your client may have little recollection, but he knew only too well when he was committing these offences that he was acting against the law."
Perth Sheriff Court was told that the lives of McDonald's victims had been blighted for the past four decades because of the abuse they had been subjected to in the late 1960s and early 1970s.
McDonald had been a Scout leader for several decades and was still on an executive committee when the police investigation began.
Camping trip
His crimes came to light when one of his victims, who is now in his 50s, broke down in front of his wife.
Sheriff Foulis added: "I don't wish to appear morbid but if I were to make a compensation order my concern first and foremost is for the victims. We are all mortal, but folk who are 78 are perhaps more mortal than those who are 55 or younger, if you get my drift."
McDonald, from Coupar Angus in Perth and Kinross, admitted sexually abusing a 14-year-old boy in the back of his estate car while camping during 1968.
He admitted carrying out the same serious sexual abuse on another boy in his car outside the Scout hut in Coupar Angus during the following year.
And he admitted that on various occasions in 1970 and 1971, in Tullybaccart, Newtonmore and Coupar Angus, he repeatedly sexually abused a third member of the troop.
Sentence was deferred for information on his financial position and bail was continued.