Lottery award for Birks Cinema revamp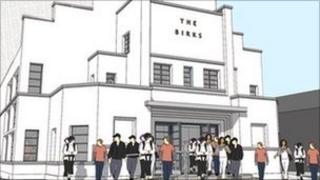 A campaign to restore a derelict Perthshire cinema has been awarded more than £500,000 of lottery money.
The funding comes just weeks after the group hoping to revitalise the Birks Cinema in Aberfeldy received a £100,000 grant from Scottish Hydro.
Friends of Birks Cinema said it had now raised the £1.8m it needed to start the project.
The cinema, which is in the centre of Aberfeldy, closed down about 30 years ago.
Charlotte Flower, who leads the local campaign group, said: "I am delighted to confirm this wonderful news. I can't express just how excited we are to have gained such an award and recognition from the Big Lottery Fund.
"They have been fantastic to deal with and now we can take big steps forward to get the project up and running."
'Local backing'
Ms Flower said the grant of £539,950 from the lottery fund had pushed the group beyond its funding target.
The money will pay a proportion of staffing costs over the first five years of the project, as well as going towards the capital costs.
Neil Ritch, from the Big Lottery Fund, said it was "delighted" to be able to support the project.
"The Friends of Birks Cinema have demonstrated enormous local backing for their project, which will not only return the building to its original use, but in doing so will provide jobs and volunteering opportunities for local people," he said.
Hollywood actor Alan Cumming, who is originally from Aberfeldy, is among those who have backed the campaign.
Actress and screenwriter Emma Thompson also contributed a drawing for a "blind" auction held last year to raise funds for the project.