Book celebrates lives of people who donate bodies to science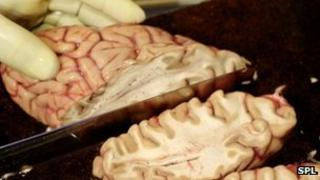 A book celebrating the lives of those who donate their bodies to medical research is to be published.
Artists and writers collaborated with staff and students at Dundee University to produce an anthology dedicated to the "silent teachers".
The university said the book, In Memoriam, explored the lives and achievements of the donors.
It includes interviews with those who intend to donate their body - and with the families of those who already have.
Medical and creative writing students were involved in the project, which will be launched at the university's Saturday evening lecture series on 18 February.
Artist and professor Calum Colvin and writers Alan Warner, Christopher Reid and John Carey have all contributed to the new book.
Human 'mystery'
Dundee University professor of creative writing Kirsty Gunn, who wrote the book's introduction, said attending an anatomical science lecture about the importance of students and scientists being able to work with real human bodies had left an "indelible mark" on her.
"I can vividly remember how he talked, movingly and with conviction, about the solemnity of the human body after death, and about the importance of the human body as a site for understanding and furthering our enquiry into anatomical science," she said.
"He was sensitive about the ethical issues surrounding human life into death but very eloquently explained that by knowing more about the body we could know more about ourselves."
"Only the actual body would do, as no simulacrum or virtual computer-generated version could grant the student and scientist such access to the mystery of our limbs and bones and organs."