Firefighters save residents from Perth flats pram blaze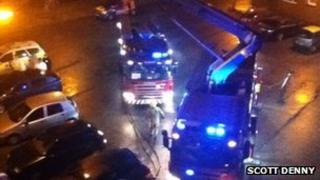 Firefighters have rescued 21 people who became trapped by a fire at a block of flats in Perth.
Crews were called to the blaze at Cairn Place in the Tulloch area, at about 19:15 on Thursday.
A 26-year-old woman was treated at the scene for smoke inhalation, but nobody else was hurt.
The fire, which is being treated as suspicious, is thought to have started in a baby's pram left in the common stairwell.
Three fire engines from Perth Community Fire Station were on the scene within six minutes of several 999 calls from people living in the flats, the fire service said.
'Survival guidance'
A spokesman added: "The fire was located and quickly extinguished using two hose reel jets.
"Six firefighters wearing breathing apparatus proceeded to ventilate the common stairwell and make contact and reassure families who were trapped in six of the eight flats by the heat and smoke.
"Members of fire control staff were speaking to residents on the phone giving them fire survival guidance and advice and explaining what the fire crews were doing."
Paramedics checked all the people affected by the fire.
Neil Kerr, of Tayside Fire and Rescue Service, said: "Recently within Perth and across Tayside we have seen a number of serious fires, often attributable to ignition of items left within insecure common closes and stairwell areas.
"Thankfully on this occasion all the residents were alerted promptly by activation of smoke alarms.
"Our advice is for occupants to ensure that no items are stored or left within common stairwells and closes, such items should be kept secure within individual flats or locked away within storage areas provided."