Perth man 'ignored' dune buggy warning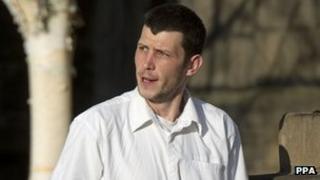 A nine-year-old boy was severely injured after being allowed to drive an off-road buggy not suitable for children, a court has heard.
The buggy's owner, Martin Boag, ignored clear "adults only" warnings on the buggy and let the boy take it down a rough farm track near Gleneagles.
Within seconds of taking the wheel, the boy spun out of control and crashed down an embankment.
Boag, 29, admitted being responsible for the boy's care on the day.
Perth Sheriff Court heard the injuries to the boy were so severe that he could have died as a result. The nine-year-old was airlifted to hospital after the accident.
Fiscal depute Stuart Richardson said the "dune or beach buggy" was taken on 1 May 2011 by Boag to private land which the owner allowed to be used by motorcyclists. He told the court the boy did not appear to be wearing a helmet or other protective equipment.
Skull fracture
"Almost inevitably, the young man lost control of the buggy and drove it into a ditch at the side of the track. The nine-year-old cracked his head off the buggy when it crashed," he said.
"He was bleeding quite badly and medical help was summoned. The boy had to be removed from the buggy by medical staff and he was airlifted to Ninewells Hospital."
The boy suffered a depressed fracture to his skull and was recovering "as well as can be expected", Mr Richardson said.
The court was also told that it said in "huge letters" on the side of the vehicle: "This cart is an adult vehicle and is not suitable for a child under 16."
Sheriff Robert McCreadie said: "I cannot think how they could have made it plainer. If he was concerned about the child's welfare how could he possibly ignore the large sign which makes it crystal clear?
"The injury to his head could have had fatal consequences. It's rather obvious a high risk of injury would be caused by the vehicle itself. It is manifestly not a vehicle any child should be near."
He told Boag, from Perth, he was responsible for a serious case of "negligence" but said he would stop short of jailing him because he had been devastated by what had happened to the boy. He ordered him to carry out 225 hours unpaid work.