Maggie's cancer centre to open at hospital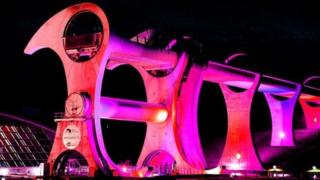 A cancer support network has been awarded a £3m grant to open a new centre at the Forth Valley Royal Hospital.
Maggie's will be given the funds by cancer charity Walk the Walk, using money raised by the Edinburgh Moonwalk event.
The organisation, which provides free drop-in centres for anyone affected by cancer, has 10 centres around the UK.
The Falkirk Wheel was lit up in pink to celebrate the announcement
More than 90,000 people visited Maggie's Centres across the UK in 2010. The Forth Valley centre will be the charity's seventh in Scotland.
The centres are also open to family and friends of those with cancer.
Maggie's chief executive Laura Lee, said: "We are overwhelmed by Walk the Walk's generosity and commitment to making sure that people across the Forth Valley do not have to go through a cancer journey alone."