Murdered woman Jenny Methven missed GP appointment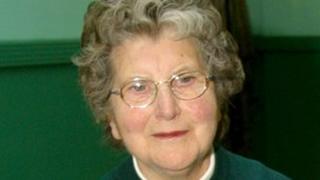 An 80-year-old woman murdered in her isolated Perthshire cottage failed to turn up for a doctor's appointment the day she was found dead, police say.
Janet Methven - known as Jenny - was due at Bridge of Earn medical centre at 14:45 on Monday, but detectives said she did not make the appointment.
Mrs Methven's son David found her body at the house they shared near Forteviot at about 17:15.
She had suffered injuries to her head and body.
Tayside Police launched a murder inquiry into her death after a post-mortem examination on Wednesday.
Officers working on the case said Mrs Methven did not get on the 14:35 bus to Bridge of Earn she would have needed to take to get to her GP's appointment on time.
They have also found that the local postman did not see the 80-year-old on his round at about 13:30 - something he thought was "out of the ordinary".
The team has now narrowed down her time of death at Kildinny Cottage to a three or four-hour window, having established she spoke to a friend on the phone at about 10:30.
Det Ch Insp Colin Gall, who is leading the investigation, thanked the public for their help so far.
Bus passengers
''The witnesses that we have spoken with to date have been able to provide us with valuable information. Equally, there has been an excellent response to our appeal for private CCTV, which is allowing us to progress the investigation," he said.
"We have officers who are dedicated to recovering every scrap of relevant footage from the coverage we have been provided with."
But DCI Gall said the inquiry team still wanted people in the area to contact them if they had CCTV systems at home or at their businesses.
He also said police had identified a number of potential witnesses they wanted to interview:
Passengers on the Number 17 Stagecoach bus that ran between Dunning and Perth at about 10:30 on Monday
A man walking a brown dog on the road out of Forteviot heading towards the level crossing at about 10:30
The driver of a yellow agricultural forklift truck that passed Mrs Methven's cottage going east at about 10:30
DCI Gall added: ''These people are all potential witnesses who were in the area at a significant time. They shouldn't just presume that they have nothing of interest to tell us.
"I would ask them to let us decide whether what they saw is of value to our investigation. The slightest detail, no matter how insignificant could help us to establish the circumstances of Jenny's death.''
Forensic officers are continuing to examine Kildinny Cottage and its grounds, and the investigation is being supported by a national policing team with expertise in major inquires.