Police officer who sped at 149mph escapes ban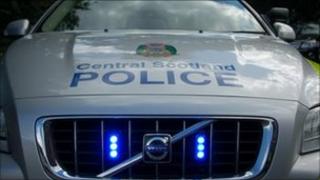 A police officer who crashed into another car after driving at 149mph on his way to deal with a diesel spill will not be fined or lose his licence.
PC Jacob Marshall was found guilty of careless driving earlier this month after his Central Scotland Police Volvo clipped a private car on the M9.
But a sheriff said "special circumstances" would mean he would merely be admonished.
Marshall, 31, had originally faced a charge of dangerous driving.
He was found guilty of the lesser offence of careless driving after a two-day trial at Falkirk Sheriff Court.
The crash happened as an off-duty taxi driver Fraser Lenny, returning from a fishing trip with an 80-year-old passenger, pulled out to allow other traffic to merge onto the M9 from a slip road near Falkirk.
Firefighter crash
The court heard Marshall's Volvo clipped the wing mirror of Mr Lenny's Vauxhall Zafira at 121mph, leaving only an inch between the police car and the central reservation barrier as the officer pulled to the side to avoid a fully collision.
A video of the police car reaching speeds of 149mph on its way to the spill on the M80 was also shown during the trial.
In mitigation, defence agent David O'Hagan cited a High Court judgement from 1997 where a firefighter was allowed to keep his licence after he crashed his engine into a car while on his way to a blaze.
Mr O'Hagan said: "Like in this case it's a journey that he wouldn't have taken if it wasn't for the emergency."
Sheriff William Gallacher told Marshall, who is based at Stirling, that he had found enough reason not to endorse his licence or fine and ban him.
He said: "Even people driving emergency vehicles need to drive with care and attention, but the emergency services do need to get to an incident as quickly as safely as possible.
"The lack of care was fairly minor, but it was in a context in which any lack of care could have had very serious consequences.
"But special circumstances do exist. At the time of the trial I made it clear that, the situation having arisen, your way of avoiding an accident showed a level of skill."