Murdered Jenny Methven 'heard vehicle in drive'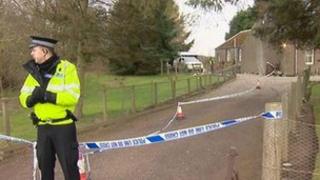 An 80-year-old woman, who was murdered in her Perthshire cottage, cut short a phone call after hearing a vehicle pull into her drive, police have said.
Jenny Methven had been talking to her friend for 45 minutes when she ended the call at about 10:30 on 20 February.
Police said that from her conversation she did not appear to have seen the vehicle - or be expecting a caller.
Mrs Methven's body was found by her son David at Kildinny Cottage, near Forteviot, at 17:15 that day.
But there are no confirmed sightings of her after 10:30 and she missed a bus at about 14:30 which would have taken her to a doctor's appointment later in the afternoon.
A post-mortem examination found she had died after suffering injuries to her head and body.
Tayside Police said Mrs Methven had been talking on the phone from 09:45 and had told her friend she had been out walking her dog just before the call.
She hung up after saying someone was reversing up her driveway.
Det Ch Insp Colin Gall, who is leading the murder investigation, said this information now formed a "crucial part" of the inquiry.
He said: "Clearly this is key information directly from the deceased to her friend.
''We need to identify this vehicle and its occupants. At this point in the inquiry, this is the last known time that we can confirm Mrs Methven was still alive and this vehicle was there. Whoever was in that vehicle can assist us with our investigation and I urge them to come forward.''
Witnesses have also told Tayside Police of two vehicles that were seen in Mrs Methven's drive at about 13:45 on the day she died.
They were described as two white or light-coloured vehicles parked "nose to tail". One of the vehicles was larger than the other and it is possible they were vans, police said.
Detectives want to identify both the vehicles and who was in them.
Passengers questioned
Det Ch Insp Gall added: ''Jenny's murder has horrified people in the Strathearn valley and beyond, but it is clear that they have turned that shock and outrage into a resolute determination to help us find whoever was responsible.
''The response to our appeals for information and assistance so far has been excellent from the rural community and from people who knew Jenny from as far afield as Bournemouth and Caithness, where friends of Jenny have contacted us to offer any sliver of information that might assist us."
Police have carried out door-to-door inquiries near the cottage, which is about a mile east of the village of Forteviot, and are reviewing private CCTV footage from local homes and businesses.
Officers also spent Monday on bus services in the Strathearn valley talking to passengers and drivers.
They have set up a dedicated line for people who have information about the murder on01738 892925.