Jenny Methven murder: Crimestoppers offer £10,000 reward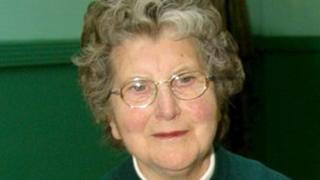 A £10,000 reward is being offered for information that leads to the conviction of the killer of an 80-year-old woman who was murdered in her home.
Jenny Methven was "violently attacked" in the kitchen of her cottage near Forteviot, Perthshire, leaving her with fatal injuries.
Her body was found by her son, David, hours later on 20 February.
Tayside Police said they were now hunting for the weapon used to kill Mrs Methven.
The murder investigation team has revealed Mrs Methven died after being beaten with a "blunt object" on her head and body.
Det Ch Insp Colin Gall, who is leading the inquiry, said: ''This was a brutal attack which led to the death of an elderly woman in her own home. Understandably, the public response has been one of horror and revulsion."
The detective said that officers had begun searching in and around the village of Forteviot for the murder weapon.
"We know that it is a blunt object rather than any sharp or bladed instrument," he said.
''To this end we would ask people, perhaps if they are out and about walking the dog, cycling or exercising to look out for anything that might be out of place. It's possible they might even spot something that appears bloodstained.
"If they have any suspicions whatsoever, they should call us.''
On Tuesday, police said Mrs Methven had cut short a phone call at 10:30 on the day she died after hearing a vehicle pull into her drive at Kildinny Cottage. Officers believe she was not expecting a visitor.
Two unidentified vehicles - possibly vans - were seen in the driveway at about 13:45 parked "nose to tail".
The inquiry team now wants to trace two vans seen at 10:15, about 500 years east of Mrs Methven's cottage on a section of road known as the "bad bend" between Forteviot and Forgandenny.
One of the vans was parked and had LDV written on its right side, near the bottom.
The second, white, van was seen going in the opposite direction at the time. It had "Draincure" written on it and caused another motorist to pull over so it could pass.
'Violent death'
Tayside Police said they wanted to speak to the people in the vans - and also two cyclists wearing hi-visibility vests who were in the area at almost the same time.
Other potential witnesses that detectives investigating the murder want to speak to include:
Train passengers travelling on the Dunblane to Perth line between 07:00 and 17:30 who saw anything suspicious
Passengers on a number 17 Stagecoach bus which passed the cottage at about 10:30
A man walking a brown dog on the road out of Forteviot at about the same time
The driver of a yellow forklift truck who was also in the area at the time
A man, aged between 35 and 40, who got on a Perth-bound bus at the stop nearest to Mrs Methven's cottage at 16:30
The reward for information about Mrs Methven's murder is being offered by Crimestoppers.
The charity's national manager for Scotland, Kate Jackson, said: "Due to the despicable actions of someone, this elderly lady has suffered a violent and unpleasant death which has left her family and friends grieving.
"Someone will have information about who is responsible. Crimestoppers is offering a reward of up to £10,000 for information on this crime that leads to an arrest and conviction so that it can be solved and bring the victim's family some form of peace.
"The public can give information anonymously on our 0800 555 111 number or through our websitewww.crimestoppers-uk.org. We won't ask who you are, just what you know."