Record breaking kilt run plan for Perth Jubilee celebrations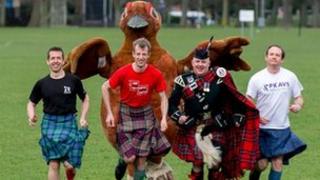 Perth will try to break the world record for people running in kilts as part of celebrations for the Queen's Diamond Jubilee.
The town also plans a "Big Jubilee Lunch" combining picnics and proms in the grassy North Inch.
The Kilt Run along an 8km route beside the Tay will aim to beat the record, set by its Canadian twin town of Perth, Ontario, of 1,089 runners.
A parade of 1,000 pipers from 400 bands will also take place on 2 June.
Perth and Kinross Council said the town - which hopes to be granted city status - would hold one of the largest civic celebrations of the Jubilee in Scotland.
Provost John Hulbert said: "The event will provide something for everyone.
"Local people will be able to bring their families and enjoy a picnic and entertainment.
"Visitors from near and far will see Perth showcased with the spectacular parade and we hope to make our name worldwide by breaking the kilt run record."
Kilt runners will be invited to raise funds for two nominated charities - ABF The Soldiers Charity and PKAVS which supports vulnerable people in Perth and Kinross.
Charles Dunphie, from ABF The Soldiers Charity, said: "We're hoping to see loads of different tartans out on the day.
"It's going to be really interesting to see which tartan has the most runners."