Perth vandal fell asleep in trashed car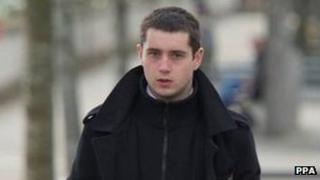 A vandal was caught after he was found sleeping in one of the four cars he had smashed up, a court has heard.
Arran MacDiarmid caused thousands of pounds worth of damage during the late night rampage in Perth before climbing into the driver's seat for a sleep.
The 29-year-old was still sleeping in the car, surrounded by broken glass, when police officers arrived at the scene to investigate.
MacDiarmid, from Inverness, admitted vandalising the cars in November 2010.
Perth Sheriff Court heard that MacDiarmid - who has secured a new apprenticeship as a panel beater since the incident - broke the windows of a Volkswagen Passat, Vauxhall Astra van, Volkswagen Golf and Peugeot 206 in Perth.
Fiscal depute Nicola Manison said he had been seen by a number of witnesses woken by the noise he was making.
Mrs Manison said: "At 1.40 am witnesses were awoken by the sound of breaking glass coming from outside their house, and a male voice was heard shouting.
"They saw a male in the driver's seat of a green Peugeot. The driver's door was open and the male was seen to be sleeping inside. Twenty minutes later witnesses heard a radio going on."
Family bereavement
The fiscal depute said he had gone on to smash the windows of the other cars after picking up two bricks in a witness's garden.
She added: "The accused was found asleep in the driver's seat of the Vauxhall Astra van."
MacDiarmid took several hours to sober up before officers were able to interview him and he admitted that he had been out drinking with friends.
Solicitor David Holmes, defending, told the court his client was grief-stricken after his grandfather died and had "regrettably" taken his feelings out on the cars.
He said: "It is no excuse but that is the explanation. He has started a panel beating apprenticeship - which might be somewhat inappropriate in the circumstances."
After hearing that the damage to one vehicle was £4,300, Sheriff Lindsay Foulis deferred sentence to establish the full scale of the damage caused. MacDiarmid was ordered to be of good behaviour for six months.