'Superned' Edmond Eccles has robbery bid sentence cut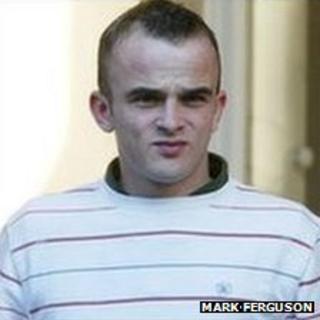 The former gang leader who inspired Scotland's anti-social behaviour laws has had a sentence for an attempted robbery cut by more than a quarter.
Edmond Eccles, 23, was jailed for 47-months for trying to rob a man in Dundee while carrying a knife.
But appeal judges cut the "excessive" sentence to 34 months.
Eccles was banned from much of central Scotland for his behaviour when he was 16 years old, earning him the nickname "superned".
In 2009, he admitted stabbing a 13-year-old boy in the arm with a pitchfork.
Eccles, a prisoner at HMP Perth, pled guilty in June 2011 to assault with intent to rob. He also admitted breaching the peace by acting in a disorderly manner.
Guilty plea discount
He was dealt with at Dundee Sheriff Court, which heard that he had threatened people in the street as well as attempting to steal a man's wallet.
The offences, which took place on 23 February 2011, were committed while he was on bail.
Sheriff Richard Davidson jailed Eccles for 47 months, telling him the offences had been committed "against the background of a horrendous record".
But appeal judges said the sentence the sheriff had not given Eccles the appropriate discount for pleading guilty.
In a written judgement, Lord Carloway said: "In relation to the cumulative effect of the sentences, the court agrees that the effect was excessive."
Eccles appeared at Alloa Sheriff Court in 2004 to be sentenced for 17 offences of assault, theft, housebreaking and vandalism in Alva - a town he claimed to run.
He was banned for nine months from an area of central Scotland stretching from Arbroath in the north to Grangemouth in the south and Crianlarich in the west.
Eventually, former First Minister Jack McConnell visited Alva to see what could be done. His spokesman said in 2003 that Eccles' behaviour was "exactly the kind" targeted by the Anti-Social Behaviour Bill.