Loudspeakers at Forth Valley Royal Hospital warn smokers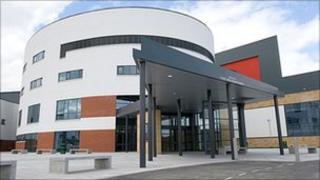 Smokers who light up outside a central Scotland hospital will trigger an alarm and loudspeaker message telling them to stop.
Health chiefs hope the measure will help deter smokers outside Forth Valley Royal Hospital who are "continually" ignoring no-smoking signs.
Smoking is banned throughout the grounds of the £300m hospital near Larbert, which opened in 2010.
The smoking alarms will be installed at the main entrance.
NHS Forth Valley said it wanted to see a "cultural change", where people no longer found it acceptable to smoke outside the hospital.
If the alarm proves a successful deterrent, they will also be fitted to other entrances.
'Constant battle'
Mike Mackay, from facilities company Serco, which manages the hospital, said: "Despite warning signs telling patients, visitors and staff that smoking is banned in the hospital grounds, people continue to smoke.
"The result is masses of cigarette ends littering the area. Serco do employ staff to keep the grounds tidy but it is a constant battle picking up discarded tabs.
"Even lighting a cigarette will set off the message and I hope this will encourage people to stub out hospital smoking."
NHS Forth Valley said figures revealed that nearly 3,000 people in Forth Valley died from smoking-related illnesses in 2010, with above average numbers of smokers in Clackmannanshire and Falkirk.
The health board's director of public health, Dr Anne Maree Wallace added: "I'm in no doubt that the vast majority of staff, patients and visitors want a smoke free environment and agree that people smoking outside hospital entrances is unacceptable."