Charges over bank card fraud scam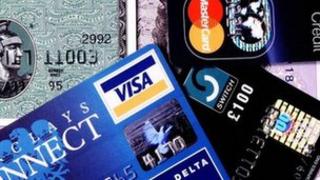 Fourteen people have been charged over a £300,000 scam targeting mainly elderly victims.
Detectives involved in the UK-wide investigation said 34 people had been affected by the scheme, with many losing their life savings.
Just under half of them were in the Central Scotland Police area. The force led the inquiry into the fraud.
The force said it was expecting to charge a "substantial" number of other people in connection with the scheme.
Det Sgt Frank McCann, who was in charge of the investigation, said: "We became aware of this scheme last summer and we set up an investigation which revealed it was complex and spanned the whole of the UK.
'Bogus' officials
"Fourteen people in our force area had more than £300,000 taken from them - in some cases their life savings were taken. There were attempts to defraud 21 other people out of their money."
The officer said Central Scotland Police had discovered that the fraud had links to similar schemes being investigated by other forces.
He added: "We set up Operation Jenga and made sure that information was shared with the Scottish Crime and Drug Enforcement agency as well as forces throughout Scotland and the rest of UK."
Many of those hit by the scam were contacted over the phone by people pretending to be bank officials or police officers, who claimed their bank accounts or cards had been compromised.
Victims were then persuaded to reveal their bank details or to hand over their card to a courier.
The force said 14 people had been reported to the procurator fiscal, charged with multiple crimes - including being the courier sent to collect bank cards, or allowing bank accounts to be used to transfer money.