'Burn home' threat made to Castle Huntly warder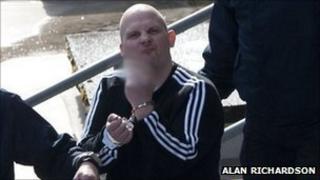 A "dangerous" criminal has told a court he threatened to burn a prison officer's house down if she did not write, text and call him.
James Holland was found in bed with prison officer Christine Robertson in March last year the day after he had absconded from Castle Huntly jail.
Ms Robertson says she was coerced into letting Holland into her flat and denies a charge of harbouring him.
The pair were found together in Monifieth, Angus, by police.
Holland was giving evidence in Ms Robertson's defence on the fifth day of her trial at Dundee Sheriff Court.
He denied that he was the "most dangerous prisoner in Scotland" - but admitted he had been branded that by others.
Holland - who has previous convictions for hostage taking, assault and robbery - said he initially did not like Ms Robertson when she appointed herself his personal officer at the jail near Dundee.
Text threats
But he said that changed after the 45-year-old took him on a day release trip. Holland said he began to view her as a "mother figure", and later as a "girlfriend-type person".
The 41-year-old said the feeling had not been mutual and that he had been forced to exert a "hold on her".
Holland said he had discovered her phone number after taking her mobile on their day out and had got her home address from another officer at the prison.
"I told my friends her address and started sending her texts and telling her she was going to stay in contact with me or I'd have her house broken into or set on fire," he said.
Holland told the court he had run away from Castle Huntly on 16 March 2011 after being threatened by prison officers and had called Ms Robertson, pretending a friend of hers was in trouble.
Kitchen knife
The pair drove back to Ms Robertson's flat so she could get money to buy fuel, the court heard.
"When we got in her car there was a beeping noise because she needed fuel and she said she had to go back to her house and get her bank card - I was rubbing my hands at how easy it was," Holland said.
When they reached the flat, Holland told the court he had asked Ms Robertson to use the toilet, but she refused him entry.
"I ran in after her. Once I got in, went to the toilet, then went to her kitchen and took a knife," he said.
"She was hysterical - but I tried to kiss her and tell her it wasn't for her."
Jonathon Crowe, defending, asked: "Did you tell her to go to her bedroom and strip off?"
He replied: "I won't answer that in case I incriminate myself in something I haven't been charged with."
Holland added that he had been washing when he heard a banging at the door as the police arrived and had grabbed a knife and ran into Ms Robertson's bedroom naked.
He was then tasered by police officers as they attempted to subdue him.
Ms Robertson denies aiding and abetting Holland in absconding and attempting to defeat the ends of justice. She has lodged a special defence of coercion in the case.
The trial, before Sheriff Tom Hughes and a jury, continues.