Pay strike 'will close Dundee Airport'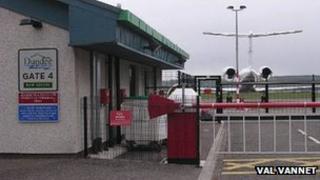 Dundee Airport will be forced to close by a one-day strike being held over a pay dispute, union bosses have claimed.
The 31 members of the Prospect Union have also resolved to work to rule in a bid to disrupt services in and out of the airport.
Dundee Airport handles scheduled flights to London, Birmingham and Belfast.
Airport operator HIAL has said it was "impossible" to meet union demands which could cost £70,000 a year.
Workers at the airport, which include firefighters, air traffic controllers and plane refuelling staff, held a strike ballot on 16 April over the 2011 pay offer and "harmonising" their terms and conditions with colleagues at other Scottish airports.
Union bosses said the work-to-rule action would mainly consist of an overtime ban. It is likely to be implemented from 30 April, but no date has yet been set for the one-day strike.
A spokesman for HIAL said on Monday it had been working for months to avoid the "ill-timed" action, which would inconvenience passengers.
A statement from Inglis Lyon, managing director of HIAL, added: "This decision will inconvenience passengers and undermine airline confidence in Dundee."