Proposed John Muir walking trail will run from Dunbar to Helensburgh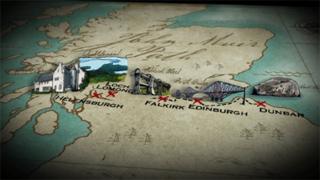 A new long-distance route for walkers is being planned for central Scotland.
The John Muir Way, named after the 19th Century naturalist, will run from Dunbar in East Lothian, through central Scotland to Loch Lomond and Helensburgh.
Walkers will also be able to branch off from the proposed trail to other walks, such as the West Highland way
The new path will be an extension of the existing John Muir Way in East Lothian.
The Central Scotland Green Network said the route would provide an important boost for the tourism industry and help Scots get close to nature, close to home.
Network spokesman Keith Geddes said: "It's also about creating jobs along the trail. Over a period of time we might create 1,100 jobs arising out of the trail."
Falkirk Council's environmental coordinator Richard Broadley said it would provide real financial benefits.
"It's overnight bed stays, it's getting people to maybe come to areas they haven't been to before," he said.
"Linking the path to some of our existing attractions, where there are facilities that people need, complements the council's tourism action plan.
"Certainly, this John Muir Way proposal chimes well with that."
National parks
John Muir was born in Dunbar and left Scotland, aged 10, in 1849.
He went on to create national parks in the United States and his activism is credited with saving many wilderness areas.
John Muir Day will be marked on Saturday in the state of California, where he was one of the driving forces in establishing Yosemite National Park.
In America he has been described as "one of the patron saints of twentieth-century American environmental activity."
John Muir has been commemorated on American stamps and the Sierra Club, which he founded, is now one of the most important conservation organizations in the US.