Dundee Airport pay strike postponed but flights cancelled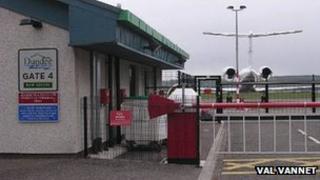 Staff at Dundee Airport have postponed a one-day strike due for Monday but flights remain cancelled.
The 31 members of the Prospect Union are involved in a pay dispute over parity with staff at other airports.
Prospect said it was to have further talks with management at Highlands and Islands Airports (HIAL).
HIAL said it was not possible to reinstate flights scheduled to operate on Monday. Passengers were urged to contact their airlines.
An HIAL spokesman said: "Alternative arrangements have been put in place by Dundee Airport to transfer affected passengers to Edinburgh Airport. Every effort will be made to ensure there is minimum disruption to passengers."
Prospect staff want their pay brought into line with workers at other airports operated by the company. Management have said that has proved impossible.
Dundee Airport handles scheduled flights to London, Birmingham and Belfast.
Operator HIAL has said it was "impossible" to meet union demands which could cost £70,000 a year.
Workers at the airport, which include firefighters, air traffic controllers and plane refuelling staff, held a strike ballot on 16 April over the 2011 pay offer and "harmonising" their terms and conditions with colleagues at other Scottish airports.
A meeting between Prospect, HIAL and the conciliation service Acas is scheduled for Monday.
Prospect national secretary Alan Denney said: "Given the lack of any progress in negotiations our members felt they had no option other than to take industrial action, so they welcome any opportunity to resolve the dispute through discussion, even at this late hour."