Dunblane survivor Ryan Liddell in sex attack appeal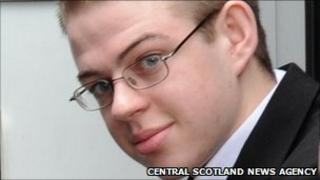 Dunblane massacre survivor Ryan Liddell is to appeal against his conviction and sentence for a "shocking" sex attack on a pensioner.
Liddell, 21, attacked the 76-year-old woman after entering her home and pretending to be a carer in 2010.
He was made the subject of a lifelong restriction order and told he must spend at least six years in jail.
Liddell was shot by gunman Thomas Hamilton at Dunblane Primary School in March 1996.
At Liddell's trial, Dr Rahan Darjee, a psychiatrist told the court the Dunblane shootings had played no part in shaping Liddell's personality.
Liddell has instructed his lawyers at Capital Defence Lawyers to begin the process of appeal against his conviction and sentence.
Simon Collins, partner at Capital Defence Lawyers said: "The case is at a very early stage, so all I can really say is that he's lodged an intention to appeal.
"The judge's charge will be prepared for the defence to look over, and scrutiny will be given to the grounds of appeal.
"I imagine Counsel will be instructed on his behalf in the near future."
At Liddell's sentencing Lord Uist warned that the 21-year-old would only be released from jail when he no longer posed a threat to the public.
Liddell was told he would have to serve at least six years in jail before he could apply for parole and would remain under supervision for the rest of his life.
His name has been added to the sex offenders register.