Time frame narrows in John Kennedy Dundee murder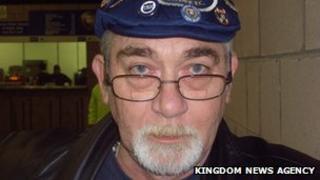 Police have announced that the time frame for the murder of Dundee man John Kennedy has narrowed.
A witness said they were at Mr Kennedy's house - where the 63-year-old died - at 21.00 on the night of the attack.
Mr Kennedy was killed at his home on Mossgiel Crescent at around 22.15 on Sunday 29 April.
Police still want to speak to visitors to the address, who may have bought cigarettes and tobacco from Mr Kennedy.
Det Insp Gary Ogilvie said: "It was a brave step for this person to come forward and assist us with our investigations and we are extremely grateful that they did so.
"Their information has been of value to us and we are satisfied they had nothing to do with Mr Kennedy's death."
He added: "We know for a fact that many people visited that address during the day and through the evening - day in day out.
"There were visitors to that address on Sunday and we want to speak with each and every one of them."
Police said the response to their appeals had been excellent but they still wanted to talk to anyone who visited Mr Kennedy's house on the day he was murdered.
Det Insp Ogilvie said: "They might be nervous about the repercussions of coming forward because, as it has been revealed, John used to sell cigarettes and tobacco to people from his home address.
"I have no interest whether or not they were there to buy things from Mr Kennedy. I am investigating a murder and they may have information that could help trace the person responsible."
Break-in
Police said that there have been reports that Mr Kennedy's house was subject to a sneak-in theft or a break-in in recent weeks.
No complaint was made to the police regarding the incident, but the authorities are keen to speak to anyone who might have information about any such break-in.
Around 50 officers are involved in the murder inquiry including detective officers, uniformed officers and scenes of crime teams.
They are supported by a CCTV team and staff working on the Home Office Large Major Enquiry System (Holmes).
A large police presence remains in the Linlathen area of Dundee and officers have recovered more than 200 items which may be of interest to the inquiry.
Police said they have prioritised items of greatest interest for forensic examination.
Around 100 houses in the area have been visited by police officers, generating almost 260 questionnaires. More than 100 statements have been processed.
Residents in the local area are being encouraged by police to search their gardens, outhouses, garages and bins and report anything amiss or out of place to the authorities.