Businesses urged to invest in £1bn Dundee waterfront project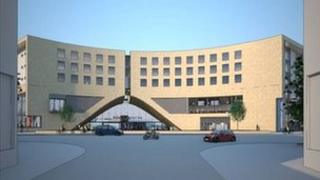 Leading Scottish businesses are being encouraged to invest in the £1bn redevelopment of Dundee's waterfront.
The 30-year regeneration project is the second biggest of its kind in Scotland.
It aims to reconnect the waterfront with the city. The new £45m V&A Museum will form the centrepiece of the scheme.
The first in a series of roadshows aimed at raising awareness of investment opportunities takes place in Edinburgh and Glasgow later.
In April plans for a new railway station, hotel and office development were submitted to council planners as part of the latest phase of the waterfront project.
Those behind the transformation project have said it could lead to the creation of about 9,000 new jobs.
They are hoping to attract investment in the five key strategic development sites each targeted at a different business sector.
The roadshows are being held at a business breakfast in Edinburgh, hosted by the Royal Institute of Architects in Scotland, and a lunchtime briefing in Glasgow hosted by commercial law firm, Brodies.
The events are designed for investors, developers, entrepreneurs, financiers and professional advisers, such as commercial property agents, lawyers and accountants.
Mike Galloway, director of city development, who is leading the roadshows, said: "We have already secured more than £300m of investment, and are well ahead of schedule with our plans to transform the city.
"Looking ahead to the projected increase in investment, job creation and visitor numbers, it is clear Dundee is going to generate hundreds of millions of pounds of additional revenue.
"Dundee is well and truly open for business, and we hope these roadshows will encourage business owners to invest in the city."
Similar roadshow events will be held in London and other key cities later in the year.