Man caught after leaving trainer print on Arbroath victim's face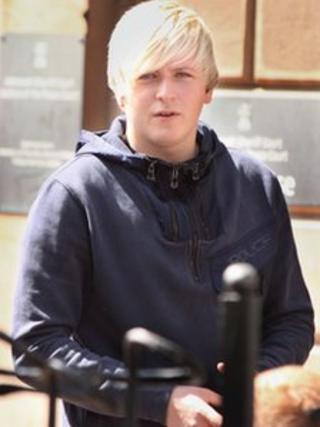 A man who kicked another man so hard that he left an imprint of his trainer on his face has been placed on a nine-month restriction of liberty order.
Scott Matthews, 20, was also ordered to pay £500 in compensation to Michael Richardson, who was left unconscious after the attack in Arbroath last year.
He admitted a charge of assault to severe injury.
The attack was captured on CCTV and forensic scientists later matched Matthew's shoe sole to the face marks.
Prosecutors at Arbroath Sheriff Court described the attack, which happened on 27 August 2011, as "brutal and violent".
Fiscal depute Hazel Anderson said that two to three months before the incident Mr Richardson had been accused by Matthews of assaulting his cousin.
On the day of the attack the victim went out to socialise with football team-mates.
He consumed a large amount of alcohol in various pubs before leaving the Central Bar where he was followed by Matthews.
Trainers match
Miss Anderson said: "The accused set upon the complainer by headbutting him to the left side of his head, causing him to lose balance, then grabbed hold of the complainer and punched him to the head three times before grabbing him round the neck and pulling him to the ground.
"At this stage a second, unidentified male, approached the complainer whilst he was on the ground and kicked him to the head or upper body then ran off.
"At the same time the accused punched the complainer four times to the head or upper body.
"The accused then stood up, straddled the complainer and with his left foot, stamped on the right side of his face."
The court heard that CCTV footage was the catalyst for Matthews' arrest - with police identifying the 20-year-old as the attacker.
He was detained and officers seized his trainers for analysis.
Forensic scientists were than able to match the patterns on the sole to a series of parallel lines left on Mr Richardson's left cheek.
He suffered a broken jaw, a laceration to the back of his head, a cut to the left side of his head and bruising to his left eye socket.
Matthews, of Parkview Gardens, Arbroath, was initially charged with attempted murder.
However, he pleaded guilty on indictment of assault to severe injury.
Defence lawyer, Nick Markowski, said his client was under no illusions that his liberty was at stake - but he urged the sheriff to consider a community sentence.
Sheriff Peter Paterson placed Matthews on a restriction of liberty order for nine months, confining him to his home from 17:00 to 05:00 every day.