Perth grandmother faces jail for neglecting her granddaughter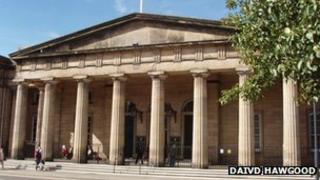 A grandmother who admitted subjecting her granddaughter to more than five years of neglect has been told she is likely to be jailed.
The girl smelled of smoke and urine, and was repeatedly infested with lice.
Perth Sheriff Court heard school staff eventually became so concerned that police were called in.
Deferring sentence for background reports, a sheriff told the woman a prison sentence was the only realistic option.
The 49-year-old, from Perth, had earlier admitted wilfully neglecting the girl between 1 January 2006 and 9 May 2011.
She further admitted failing to seek adequate medical, eye and dental care, failing to ensure standards of hygiene were maintained, leaving the girl regularly smelling of urine and smoke and being infested with head lice.
And she admitted failing to provide the child with clean clothing and failing to ensure she attended school on a satisfactory basis.
'Constantly dirty'
Fiscal depute Carol Whyte told the court: "Between 1 January 2006 and 9 May 2011 the nursery and primary school kept a log of concern in relation to the child.
"She was unkempt and her clothes were constantly dirty. She had head lice regularly, every few months. Correspondence was sent to the accused.
"The child smelled strongly of urine and smoke. This was commented on by other pupils."
Sheriff Lindsay Foulis also heard the girl could not see properly because she had not been given the glasses she needed.
Appointments had been set up for the grandmother to take the child to the optician to help with her eyesight, but she was never taken and went without glasses for more than three months.
Miss Whyte told the court that the girl was absent from school for 92 days during primary one and more than two-thirds of those absences were unexplained.
She said: "Social workers were contacted in relation to the concerns. That led to the child being removed and the accused being detained by the police."
The court heard the girl had now been permanently removed from her grandmother's care.
Solicitor Steve Lafferty, defending, said: "She has found it very difficult to accept culpability.
"She has had difficulty with agoraphobia in the past which has impacted on her personal care and on her granddaughter.
"Over the five years things have not been all bad. She has endeavoured to try and get rid of the lice, but clearly there have been failings, no doubt about it."
Sheriff Foulis said he felt that a custodial sentence was the only option he could realistically consider, despite the accused having no previous convictions.
He said: "She doesn't accept responsibility. There is no acceptance on her part that over the course of five years she has effectively neglected her granddaughter. None at all.
"That is against a background where there are headlines every few months about another young child dying of neglect.
"These cases are brought because if they are not then there is perhaps another case where a child is ill-treated and loses their life. That is a fact. It is extremely serious."
Sentence was deferred to allow for the preparation of a medical report on the accused.