Dundee game developers have children review their work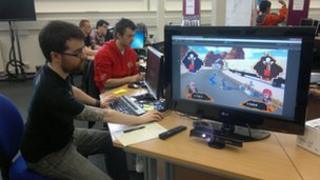 A group of computer games developers are facing some of their fiercest critics, after asking children to review their work.
School pupils will be delivering their verdicts on products from designers competing to come up with the latest hit title at a major industry event.
Dare to be Digital, at Dundee's Abertay University, challenges students to create a new game in nine weeks.
It runs from June to August and gives entrants the chance to win a Bafta.
There are 15 groups of five students taking part this year, developing games for tablets, phones, PCs and consoles, with the winning three teams put forward for the Bafta 'Ones to Watch' award.
Dare to be Digital project co-ordinator Sarah Johnston said young people were a target market - adding that child reviewers were a daunting prospect for the designers.
She said: "We've heard someone say 'what did you like about the game? - nothing'.
"They're brutally honest, but that's what you need.
"When you've been working on something yourself for so long, it's quite easy to get lost in what you want the game to be like, rather than your audience."
Dave Taylor is team leader of one of the groups, Gas Tank Games, said he was terrified of the idea of having school pupils come in.
"We heard that they're so blunt and their opinions are very strong," he said, but added that the feedback was also incredibly useful.
Mr Taylor went on: "They see it in comparison to games out there in the market.
So when they give us comparison and say 'the Kinect doesn't do this' or feels 'too wobbly', we have a frame of reference.
"So we get very, very strong feedback from people we would never have the opportunity to hear from."
The final game prototypes will be on view to the public at the Dare ProtoPlay computer games festival in Dundee's Caird Hall 10-12 August.