William Kean lodges special defence in Jenny Methven trial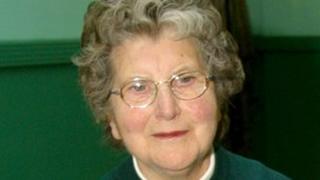 The man accused of murdering Perthshire pensioner Jenny Methven has lodged a special defence blaming her son David Methven, or others connected to him.
William Kean denies murdering the 80-year-old on 20 February this year.
The 46-year-old has gone on trial before Lord Glennie at the High Court in Glasgow.
The court heard that Mrs Methven suffered severe head injuries in the attack in the kitchen of her Forteviot home.
Giving evidence forensic scientist Yvonne McLaren told the court she had examined the crime scene and noted pools of blood on the kitchen carpet and blood spatter and runs of blood on one wall.
Fingerprint found
The jury was warned about the content before being shown a video taken in the cottage which showed Mrs Methven's blood soaked body lying on the kitchen floor.
The court heard that Mr Kean's fingerprint was found on a wall telephone covered in Mrs Methven's blood.
Police also found his DNA on a glass and on one of Mrs Methven's arms.
A pair of trousers with Mrs Methven's blood on them and with the bottom of one of the pockets cut off were found a month after the pensioner's death in Mr Kean's home.
The 46-year-old is also alleged to have repeatedly cut his own finger tips and palms in order to prevent the police getting useable print samples.
He is charged with stealing £15,000 from the Mrs Methven's cottage on 14 September last year.
He is further accused with attempting to defeat the ends of justice between 20 February and 28 March this year by allegedly pouring bleach or similar liquid onto bloodstained trousers and cutting a pocket from them and concealing the trousers and pocket material in the eaves of a garage.
Mr Kean denies all the charges.
The trial continues.