Heart among exhibits in Marquis of Montrose collection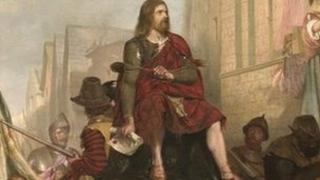 The largest ever collection of memorabilia marking the life of one of Scotland's finest battlefield commanders has gone on show in the town from which he took his name.
It is four hundred years since the birth of James Graham, who would become the 1st Marquis of Montrose.
An exhibition charting his life has opened at Montrose Museum.
Among the exhibits is a human heart said to have been recovered from the Marquis's remains.
James Graham was born in 1612 and played an important part in the Wars of the Three Kingdoms, initially joining the Covenanters, but eventually switching his support to King Charles I.
The defeat of the Royalists saw him flee to Norway, but he later returned from exile with a small army in support of Charles II but was captured and hanged in Edinburgh.
'Act of courage'
Some believe the Marquis is as important a historical figure as Robert the Bruce or William Wallace.
Malcolm McVittie of the 1st Marquis of Montrose Society said: "His lifestyle, his extraordinary physical courage, and moral courage - to change sides and leave behind all his youthful and university friends and go and support the King - is an extraordinary act of courage."
The exhibition, entitled To Win or Lose it All - A Celebration of the Life & Campaigns of James Graham 1st Marquis of Montrose 1612 - 1650, hosts the largest collection of objects relating to the Marquis which has ever been brought together.
These include paintings, weapons, portraits, documents, furniture, silver and the heart said to be from Montrose himself.
Museum curator, Rachel Benvie, said: "There are two known hearts of Montrose and we have managed to locate a display one of them.
"I was a little bit sceptical when I first saw it.
"It is maybe slightly larger than a normal human heart but the process of embalming could well influence that, and it is human. And anyway I do feel it is right that the Marquis of Montrose should have a larger heart than other people."