Three charges dropped against Methven murder accused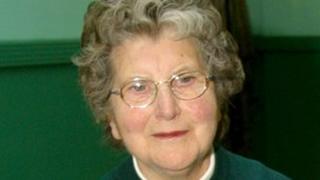 The man accused of murdering a Perthshire pensioner has had three other charges against him dropped.
William Kean is still accused of murdering 80-year-old Jenny Methven at her Perthshire home on 20 February this year, which he denies.
At the High Court in Glasgow, Mr Kean, 46, was acquitted of stealing £15,000 from Mrs Methven's home in Forteviot on 14 September last year.
He was also cleared of attempting to pervert the course of justice.
Mr Kean now only faces the murder charge.
£159,000 in cash
Earlier the court heard from Det Sgt Colin Lorimer, who was the inquiry officer. He was asked if they had information that Mrs Methven's son may be linked to Strathclyde-based high level criminality.
The court was also shown a suitcase containing £105,000 in cash, the jury heard that this was the bulk of the £159,000 found in the Methven's house.
The briefcase was found in a locked cupboard in the living room, police also found cash in a freezer and in other parts of the house.
Det Supt William Semple, who led the murder inquiry, was asked if old ladies in their 80s were usual targets from criminals and he replied: "Not in Scotland.
"It would be most unusual to target an old lady, in my experience."
The court had also heard details of interviews Mr Kean gave to police after his detention.
'No comment'
The jury was read parts of the police interviews which took place in March, the month after Mrs Methven was found dead.
Mr Kean denied murdering Mrs Methven but replied "no comment" when asked if he had been in her house and then refused to explain that answer.
He also told officers that if he knew who was involved in her murder, he would tell them.
Mr Kean had said to officers: "I wish I did. I wish someone would come forward and admit it. It's a sad time for everybody."
The court heard the 46-year-old was also asked: "If I tell you there was a partial profile of your DNA which was recovered from the wrist of Jenny Methven what would you say?"
Mr Kean replied: "I'd be gobsmacked. I never murdered Mrs Methven."
At one point he was asked if he could have killed Mrs Methven and not remembered it and he said: "I couldn't murder anybody... Honestly you've got it wrong if you're trying to put the blame on me."
The trial, before Lord Glennie, continues.