Jenny Methven accused found pensioner on the day she died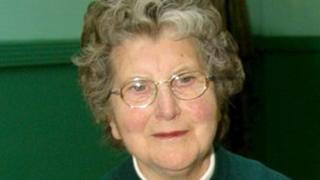 The man accused of murdering an 80-year-old Perthshire woman has told a court he found her badly injured in her home on the day she died.
William Kean described how he found Jenny Methven lying on the kitchen floor with towels placed over her head.
The 46-year-old is charged with murdering the pensioner at her Forteviot cottage on 20 February this year, which he denies.
The trial, at the High Court in Glasgow, continues.
The accused told the court he had driven to the Methven's cottage on 20 February to pick up paperwork and two tyres that Mrs Methven's son David had left there for him.
He said there had been no answer at the house but when he went into the kitchen he found the pensioner lying on the floor.
Mr Kean said: "I thought she had just fallen. I went forward into the kitchen and noticed there were towels on her head."
He said he bent down to the pensioner and heard her say her son's name twice: "David...David".
Mr Kean was asked why he had not called the emergency services. He said he was afraid he would get the blame for what had happened to her and be accused of something he had not done.
The defence then asked the 46-year-old why he did not phone and just not give his name, he replied: "I didn't know I could do that. I do regret not phoning the emergency services. There is no excuse for that."
Special constable
Mr Kean was also asked why he did not go to the police when it became known that Mrs Methven had been murdered.
He told the court that her son David had asked him not to and told him not to admit to being in Mrs Methven's cottage that day.
The accused claimed that Mr Methven told him he knew who had killed his mother and warned Mr Kean that he would "have him done in" if he talked to the police.
He also claimed that Mr Methven had offered him £30,000 a year for three years to keep quiet.
It was also revealed Mr Kean was a special constable with Tayside Police from 1996 to 1999.
Under cross-examination, prosecutor Alex Prentice QC asked Mr Kean why he left Mrs Methven injured and did nothing to help her, adding: "You know about first aid - you were special constable from 1996 to 1999 and you would know how to deal with that situation."
Mr Kean replied: "I've never dealt with anything like that."
Mr Prentice went on: "But, what you decided to do was close the door."
"Yes, and I regret it," replied Mr Kean.
He also told the court he "never thought for a moment" Mrs Methven would die if she did not get help.
Mr Kean denies murdering Mrs Methven and has lodged a special defence incriminating her son.