Helicopters used over Callander to boost grouse numbers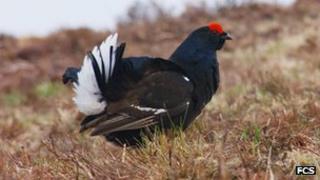 Conservationists have taken to the skies above Stirlingshire to help boost numbers of an endangered bird.
Helicopters will spray herbicide over 270 hectares of bracken between Callander and Lochearnhead to improve the habitat for black grouse.
It is part of a £720,000 project to protect the iconic bird.
The spraying will remove dense bracken and promote the regeneration of species like heather and blaeberry which the black grouse feed on.
Due to the difficult terrain, helicopters have been hired as the most effective way to apply herbicide to target the bracken.
Since 1999, black grouse populations around Callander have declined from approximately 50 adult males to around 15 in 2010, although recent figures suggest numbers are recovering.
The Callander Black Grouse Project is being supported by Loch Lomond and The Trossachs National Park.
Their land management adviser, Scott Nisbet, said: "By removing areas of dense bracken avoided by grazing animals, we can increase the area of available ground, reducing overall grazing pressure.
"In this way, we hope to encourage the regeneration of moorland plant species like heather and blaeberry which are important sources of food for black grouse.
"Areas of sparse bracken will be retained to provide cover for the species that are adapted to use it, including woodland plants such as bluebells and certain species of butterflies."
Simon Thorp, Coordinator of the Bracken Control Group and Director of Scotland's Moorland Forum praised the scheme.
He said: "The Callander Black Grouse Project is a good example of the importance of having the right tools at our disposal to undertake effective bracken control, not just for agricultural or forestry purposes, but also to achieve conservation objectives for priority habitats and species like heather moorland and black grouse."