John McMurchie murder: Police appeal at Dundee derby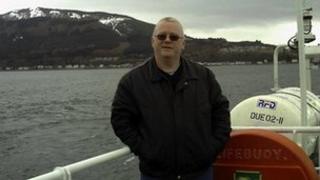 Police investigating the death of a Perthshire man have appealled for information at the Dundee derby.
John McMurchie, 50, from Errol, was found seriously injured in Dundee's Fintry Terrace in the early hours of last Sunday. He died later in hospital.
Mr McMurchie was a Dundee United fan and police have asked for help at half-time during the club's match with Dundee at Tannadice Stadium on Sunday.
Police also want to speak to two people seen in the area where he was found.
The pair were spotted between 03:55 and 04:00 in an area known locally as the centre path, near the Whitfield family resource centre.
Officers said Mr McMurchie spent Saturday evening in city pubs, including the Dolphin Bar, the Balmore Bar and the Albert Bar, before going to an address in Murrayfield Gardens.
The father-of-five and grandfather-of-two left the house between 03:30 and 04:00.
Search continues
Det Insp Bobby Dow said: "We want to speak with people heading home from a night out, taxi drivers who were dropping off or picking up in the area, shift workers heading to or from work, or event delivery drivers on early-morning runs.
"Did you see anyone walking in the area, or their own, with others, or even out walking their dog? Don't presume that you didn't see anything of interest.
"Contact us and let us decide."
Police are still searching the Whitfield area of Dundee for evidence of what happened to Mr McMurchie.
Det Insp Dow said: "As we piece together his last movements we are scouring the area to see if there is anything that can be found to help us establish exactly what happened to him.
"We are carrying out our searches but the public can also assist, and I would appeal to them to check their gardens, outbuildings and the area around them.
"If they find anything unusual or out of place - leave it where it is and contact the police."