Royal Bank in Carnoustie left unlocked over weekend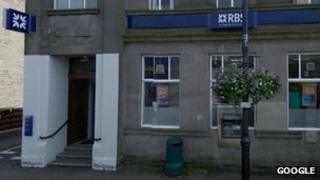 The Royal Bank of Scotland has launched an investigation after the main doors to one of its branches were left unlocked over a weekend.
The problem at the branch in Carnoustie near Dundee was only discovered when a member of the public leaned against them setting off the alarm.
The bank said the internal doors were locked.
A spokeswoman added that they were "pleased the alarm system worked as planned".
The member of the public is understood to have lent on the wooden front doors at the bank, pushing them open, as she waited for a bus.
Tayside Police were called to the scene when the alarm activated.
The Royal Bank of Scotland spokesman said: "We are investigating why these doors could have opened."