Tayside Police launch real-time app to update public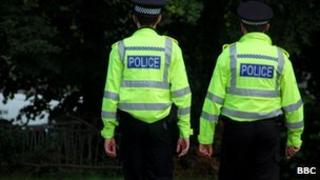 Tayside Police force is to become the first in Scotland to launch a dedicated app allowing the public to contact them via social media.
The software will go live next month and will see officers posting real time updates while on the beat.
A total of 80 community constables have been trained to use the technology and more are to be issued with smart phones next month.
The force said the app should see more incidents being reported.
Sarah Craig, head of digital media and communications at Tayside Police said it was hoped the new technology will improve public confidence.
She said "Social media sites like Twitter and Facebook are fast becoming the communications method of choice for an entire generation of Scots, making it essential for police forces to keep pace with developing technology and embrace these tools.
"If citizens want to speak to public services via the internet, it is beholden upon us to listen to them."
However, she was keen to reassure the public that the introduction of the app would not be at the expense of traditional means of contacting the police.
Ms Craig added: "This is not a replacement for manned front desks, 999 calls or any of the existing ways the public can interact with us.
"It is simply a new way of keeping in touch and encouraging conversations with people who might never have considered contacting the police before."
Interactive map
So far, 80 officers have been shown how to use the app to post updates in real-time from the beat.
More members of the force will be issued with smartphones in September and a further version of the software will be made available to the public in October.
The phone application will see members of the public sent direct communications and appeals for information and updates of police activity in their local area.
The force will also post accounts of current cases and an interactive map showing the locations of community officers not involved in sensitive investigations.
Tayside Police have more than 21,000 followers on facebook and 5,500 on Twitter.