National Theatre takes Black Watch drama on Asian tour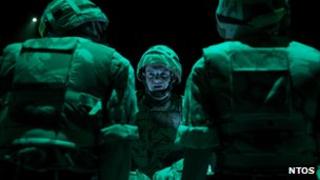 The award winning military drama Black Watch is to be taken to a whole new audience.
The National Theatre of Scotland (NToS) will perform the Gregory Burke play as part of its first tour of Asia.
Following a tour of the USA, the company will stage the highly acclaimed production in Korea.
The NToS will also be staging the Citizens Theatre's production of The Monster in the Hall, by David Greig, in China in October and November
Over the last six years, the NToS has toured Europe, the United States and South America, but this is the first time the company will visit countries in Asia.
Subtitles debut
Neil Murray, executive producer of the National Theatre of Scotland, said the company was thrilled at the prospect of breaking new ground.
He said: "Amazingly, in the case of Black Watch, after six years of touring, it will be the first time that it has been presented with subtitles.
"That it should be in South Korea, which has a very live issue surrounding the role of its military is particularly exciting.
Black Watch was first performed at the Edinburgh Festival Fringe in 2006 at the University of Edinburgh Drill Hall.
It was written through personal testimonies of members of the famous army regiment and uses military drills, song, video and historical sequences to give an up-close account of the Iraq War.
The Black Watch tour will be presented by the National Theater of Korea from 26 to 28 October, in Seoul in South Korea.
The theatre's president, Ahn Ho-sang, said the play's depiction of the Iraq war was a major draw for them.
Audience empathy
He added: "Korea has established a conscription system which will see almost all young men serve in military and some troops have already been dispatched to Iraq, as their fellows have been in Black Watch.
"Korean audiences will deeply empathize with seeing a play about young men who volunteer to serve in the military with a light heart saying 'Rather than becoming a supermarket clerk, maybe I'll be a man and join the army', then watch them unexpectedly get hurt during a horrendous war."