Nine-year-old boy saw man raping his mother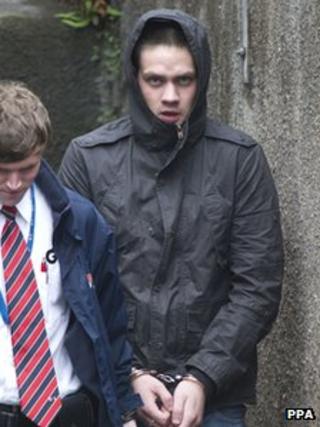 A rapist whose attack on a woman was witnessed by her nine-year-old son has been jailed for five years.
Graham Brown pinned his victim down at a house in Coupar Angus, Perthshire, in July last year.
At the High Court in Glasgow, judge Lord Kinclaven told the 25-year-old that a custodial sentence was "inevitable".
He sentenced Brown to five years and ordered that he be supervised for a further three years on his release.
The court heard that the victim was attacked after she had come home from a party and fell asleep fully clothed.
She awoke when she felt someone's arms on her and was unable to fight Brown off as he attacked her.
Her ordeal only came to an end when her nine-year-old boy walked in.
Giving evidence to the jury in June, her son wept as he told how he walked into his mother's bedroom and saw her being "pinned down" by Brown.
The victim told the court that her life had been "hell" following the incident.
Brown initially denied having sex with the victim, but later claimed it had been consensual.
He said he had lied because he was "scared, embarrassed and worried".
Brown, from Perth, said: "I was shocked and panicked and was not sure what to do. I didn't think it would go this far.
"I didn't think anything would be made of it. I had not done anything wrong."