Stirling Castle tops Which? magazine attractions poll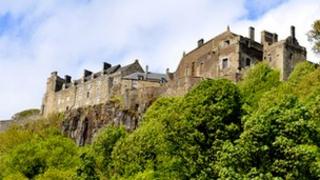 One of Scotland's most famous landmarks has been rated as the UK's favourite heritage attraction.
Stirling Castle topped the Which? survey which ranked attractions, in terms of value for money, customer service and quality of information.
The popular visitor destination beat other well known heritage landmarks such as the Tower of London and the Houses of Parliament.
Over 3,000 Which? members were polled in the study.
The online survey asked members to give their views on the UK tourist attractions they visited between May 2009 and May 2011.
Stirling Castle, which is run by Historic Scotland, re-opened its palace apartments to the public last June following a £12m restoration of its interiors to how they may have looked when Mary Queen of Scots lived there.
Huge honour
Stephen Duncan, director of commercial and tourism at Historic Scotland said the organisation were pleased to be ranked so highly.
He said: "It's fantastic to see the response by visitors who have visited the castle in their hundreds of thousands since the reopening of the palace and to be recognised as the UK's favourite heritage attraction is a huge honour and testament to the hard work of all the team."
He added "We know that visitors are increasingly looking for value for money and we want to ensure that we offer as competitive a proposition as possible.
"The castle has witnessed some of most famous events in Scottish history and we want it to be somewhere that visitors return again and again to create new memories."