Vickie Humber named new 'World Jampion' at Dundee Food Festival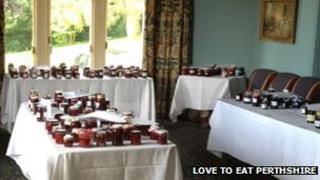 A woman from England has beaten over 200 entrants from around the globe to be crowned the world's best jam maker at the Dundee Flower and Food Festival.
Vickie Humber from Flitwick in Bedfordshire took the top spot in the second annual World Jampionships.
The 38-year-old only started making preserves while she recovered from a nervous breakdown.
Ms Humber managed to beat last year's champion Canadian singer Trisha Gagnon by just a single point.
The new World Jampion said her winning jam was something she made all the time: "It's just a strawberry jam, it's a recipe I make all the time.
Leftover jar
"I didn't make anything special to enter into the competition, in fact it was actually a batch I made for a hotel in my town and it was a jar that was left over after the batch."
Ms Humber said she only began making jam after a nervous breakdown in June 2007 left her housebound.
It was her determination to get better that saw her leave the house one day and visit the local shops.
She said: "One day, there was reduced for quick sale plums and I just thought I buy them and go home and make some jam.
"And that's where my poor husband says my obsession with jam began."
The competition is organised by the Blairgowrie and East Perthshire Tourist Association's (BEPTA) Love to Eat - Food Heritage Project.
Jampionships co-ordinator Tracey Baxter said the standard of the entrants was remarkable: "It was incredibly high, 100% increase on entries from last year, when it just a pilot project.
"Our winner last year was from British Columbia in Canada and she returned to defend her title. She was defeated by just one mark. It was very tight."
'Keep it basic'
Ms Baxter said they'd been overwhelmed by the number of people wanting to take part: "We couldn't be more delighted, last year we did it with just a tiny budget, but we knew then we were on to something.
"But it's not just about the competition, it about the heritage and the food of Blairgowrie and East Perthshire."
The new world Jampion has this advice for those wanting to make a good strawberry jam: "Just keep it basic, all I use is 50% fruit, 50% sugar and rather than lemon juice I use pectin."
Ms Humber added: "And just stirring the pan, it's very, very therapeutic."