Inspector calls for more job training at Castle Huntly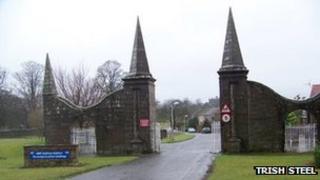 Scotland's only open prison has been told it should do more to help inmates find jobs upon their release.
The country's chief inspector of prisons, Brig Monro, said vocational training should be reviewed at Castle Huntly.
He also criticised a general feeling of boredom among prisoners and poor quality of recreation.
Brig Monro's report was mainly positive, however, and noted a big fall in the number of absconders.
HMP Castle Huntly is located on the outskirts of Dundee and houses inmates who are nearing the end of their sentence.
Safe prison
The open prison is the only one of its kind in Scotland following the closure of Noranside open prison in Angus in 2011.
The inspector has praised that process and said the closure of Noranside and the re-organisation of the Open Estate into one site had gone well.
The report found the open prison is safe and prisoners are treated with decency, humanity and with respect for their legal rights.
Mr Monro said: In summary this was a good inspection. However, there are a number of communication issues which suggest to me that prisoners in the open estate are not as involved in the day-to-day running of the prison as they could be.
"Given that they are soon to be released, a greater feeling of trust between staff and prisoners should be encouraged.
"I am worried about the general feeling of boredom and poor quality of recreation. Except for the gymnasium, there is very little for prisoners to do, particularly on the evenings and weekends."
The inspector's main recommendation was that prison's vocational training should be reviewed and the risks posed by prisoners who have a history of committing domestic violence should be looked at.
Largely positive
He added: "I noted that the governor and his staff refocused Castle Huntly on the outcome of preparing prisoners for being returned to the community.
"Although this process is still ongoing, there is a strong impression that all activities are aimed at rehabilitation and this has required a number of changes, most obviously in education.
"It is clear, however, that the principle offender outcome activity is work placements in the community, and that other activities within the prison are relatively limited."
A spokesman for the Scottish Prison Service said: "We certainly welcome this largely positive report by Her Majesty's Chief Inspector of Prisons for Scotland.
"There are a number of recommendations in the report which we will consider in due course.
"We also welcome the inspector's recognition of the progress that has been made at the Open Estate."