Perth man in court for 'alarming' tomato sauce incident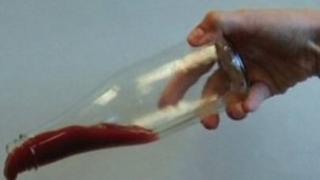 A man has appeared before Perth Sheriff court accused of causing fear and alarm by spraying tomato sauce.
Jamie Green, 29, is alleged to have shouted and sworn and sprayed tomato sauce over kitchen worktops at an address in Perth on 20 August.
He also faces three other charges, two of which are assault. The trial has been scheduled for November.
On Thursday the court heard a similar but unrelated case involving a black pudding.
Perth Sheriff Court heard that Mr Green is alleged to have behaved "in a manner likely to cause fear and alarm to a reasonable person" at a property in Strathtay Road in Perth on 20 August this year.
Further charges
The 29-year-old from Perth is alleged to have "shouted and sworn, sprayed tomato sauce over the kitchen worktops and walls, knocked over and broken ornaments, and thrown a bucket of water and bleach over worktops and a freezer."
Mr Green denied the charge and also denied assaulting Heather Hunter on the same date by slapping her on the head and pulling her hair.
He also denied that on 19 August he assaulted the same woman at the same address by punching her on the body, pushing her and grabbing her by the neck.
The 29-year-old further denies a fourth charge of behaving in a threatening or abusive manner likely to cause fear and alarm in the street on 19 August by shouting and swearing.
After he denied the charges, he was granted bail with the additional condition that he does not enter Strathtay Road in Perth.