Alleged vandal faces arrest over Stirling Knox statue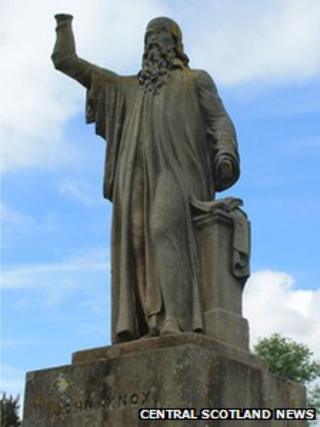 An arrest warrant has been issued for a teenager accused of snapping the index finger off a statue of the man who lead Scotland's reformation.
Declan McBlain, 18, is said to have damaged the statue of John Knox at the Valley Cemetery in Stirling.
He is alleged to have broken the statue's right index finger.
The teenager failed to appear at court to face charges of vandalism, prompting Sheriff William Gilchrist to issue the warrant.
At an earlier hearing Mr McBlain, from Stirling, had entered a plea of not guilty to a single charge of vandalising the statue, which is by Alexander Handyside Ritchie, one of Scotland's most famous 19th century sculptors.
£5000 finger
The incident is said to have occurred on 20 July last year.
Stonemasons have estimated that replacing the missing finger could cost more than £5,000.
After the teenager failed to appear at Stirling Sheriff Court on Monday, his solicitor, Harry Coughlan, told Sheriff Gilchrist: "I have no explanation for my client's non-appearance."
The Crown asked for a warrant to apprehend him, which the sheriff granted.
The statue faces Stirling's Church of the Holy Rude, where Knox crowned James VI King of Scots on 29 July 1567.