Dundee City Square upgrade agreed with £2m funding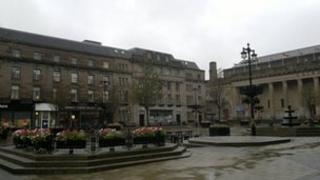 Councillors have backed a £2m upgrade of Dundee's City Square.
The local authority's development committee has approved a bid by Tayside Contracts that would see the renovation of the city centre site, with new paving, drainage and landscaping.
Officials have put the total cost of the redevelopment at £2,210,000.
The work is scheduled to start in January and is expected to to be finished by next summer.
Will Dawson, convener of the committee, said: "With the massive amount of work going on around the city, particularly at the new Malmaison Hotel and elsewhere on the Waterfront, it is important that other prominent parts of the centre are equally attractive for visitors and local people.
"City Square has always been a gathering place and with these planned improvements, which will also provide upgraded facilities for market stalls like the successful monthly Farmers' Market, I am sure that it will attract even more people who want to sit, chat and enjoy the atmosphere.
"As well as the environmental improvements the important nature of these works will also safeguard the square for future generations through improved drainage and work on waterproofing the roof of the underground garage."
A new water and electrical supply is also to be installed and the square's lamp posts replaced by wall mounted lighting. The steps and ramps at Caird Hall will also be replaced.
The work will be carried out in two phases, with on one half of the square redeveloped at a time.