Falkirk thieves make off with three bearded dragons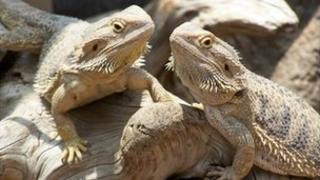 Police have expressed concern for the safety of three lizards stolen from a Falkirk pet shop.
Central Scotland Police said the Bearded Dragon lizards were taken from a specially designed cage at the Pets at Home store on Grahams Road.
The theft is thought to have taken place between 15:15 and 15:40 on Friday 21 September.
The animals are described as about six inches long and are green and brown in colour.
Officers warned that the lizards need to be kept in the right conditions or their health may suffer and appealed for any information about the theft.
A police spokesman said: "The natural habitat of lizards is in hot dry countries. Due to this the lizards need to be kept in special glass cages where the temperature and lighting is specifically controlled.
"Without this the lizards will clearly suffer. We are keen to hear from anybody with any information or who may have been offered the chance to buy them."