Dundee teenager sought after fleeing assault sentence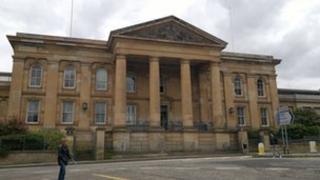 An arrest warrant has been issued for a teenager facing a jail for a brutal assault after he failed to turn up at Dundee Sheriff Court.
Last month Connor McLeod, 17, was convicted of beating Dale Forbes with a brick and then stabbing him.
Despite being on three bail orders at the time, McLeod was released following his conviction.
He was due back at Dundee Sheriff Court to face sentence on Friday, but failed to attend.
McLeod was found unanimously guilty by a jury last month of assaulting Mr Forbes by hitting him with a brick, punching and kicking him on the head and body, and stabbing him.
Bailed again
The 17-year-old was further convicted of being in possession of a knife.
But despite having been on three bail orders at the time of the offences, having previously been arrested for failing to appear in court and admitting a charge of breaching a bail order, McLeod was allowed to walk free after being convicted by the jury.
He was released to a flat in Dundee, after being convicted of the three charges on the indictment.
McLeod was due back at Dundee Sheriff Court on Friday to face sentence over the offences, which took place in Dunholm Terrace in Dundee, on 28 January this year.
But defence lawyer Jim Laverty said: "I was due to appear on his behalf. I haven't seen him this morning. I am also advised that it would appear that he has flown from this address as well."
Sheriff George Way, who had presided over McLeod's trial, granted a warrant for his arrest.