Perth couple jailed for attacking neighbour over party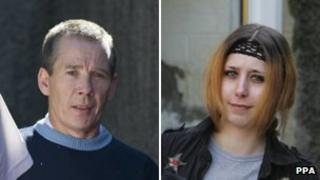 A Perth couple disturbed by a neighbour's noisy party have been jailed for attacking one of the revellers with a drill and a metal bar.
Dean Hay, 46, and Kelly Conroy, 30, carried out the attack because their quiet night in was disrupted.
At Perth Sheriff Court Hay admitted beating Andrew Gordon with an iron bar, while Conroy admitted trying to hit him with a drill.
Sheriff Robert McCreadie sentence Hay to 18 months and Conroy to six.
The court heard Hay had initially got into an argument with his neighbour Ryan Adsley, after complaining about the noise coming from the flat across the landing.
Noise complaint
Fiscal depute John Malpass told the court: "The complainer lives across the landing and the doors face each other six feet apart."
Following the argument Mr Gordon went to Hay and Conroy's flat to calm things down.
The court heard the victim had stripped off to his bare chest and it was Hay's belief that he had come to his home to start a fight.
Mr Malpass said: "The complainer was repeatedly punched on the head and body by Hay.
"Conroy picked up a rotating drill and switched it on. She tried to strike the complainer on the body with it. "
"There was blood on the floor. Furniture was broken and overturned and the TV was smashed. The complainer tried to run out of the flat but was pursued by Hay, who now had a metal bar.
Cuts and bruising
The fiscal depute said when the police arrived they were met by a witness who was hysterical. He added: "The complainer was screaming incoherently. One officer noted the trail of blood going up to the landing."
Mr Gordon suffered at least eight cuts and severe bruising.
Hay, who was on bail at the time, admitted attacking and injuring Andrew Gordon on 21 June by punching him on the head and body and repeatedly hitting his head and body with a metal pole.
Conroy admitted assaulting Mr Gordon by brandishing a rotating drill at him and attempting to strike him on the body with it.
Sheriff Robert McCreadie told Hay: "You have an appalling record, which includes culpable homicide, serious assault, and assault and robbery. You are a violent man who remains unable to control your aggression."
Hay smiled and thanked the sheriff when he was jailed for just 18 months.
Conroy was jailed for six months and was released immediately because she had spent 94 days on remand.