Falkirk bonnet speeder sees sentence cut appeal fail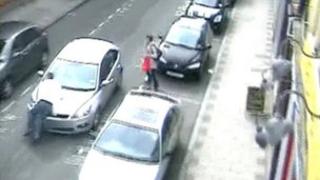 A woman who was caught on camera driving at speed through Falkirk with a pedestrian clinging onto her car's bonnet has been refused a reduction in her jail sentence.
Suzanne Gilchrist, 38, was sentenced to four years and three months imprisonment for the incident.
Gilchrist challenged her sentence, claiming it was too harsh because she had admitted her guilt.
At the Court of Criminal Appeal in Edinburgh, her appeal was rejected.
The high speed chase happened after the 38-year-old was followed to her car by a security guard after she was suspected of shoplifting.
At Gilchrist's original trial, the court heard she shunted pedestrian Stuart Morris, who had been crossing the street, along the road, forcing him to jump onto the bonnet to avoid getting run over.
'A gonner'
Mr Morris, 22, pleaded with her to stop but she accelerated along Manor Street in Falkirk with him hanging on top of the car as she swerved over the road trying to throw him off the bonnet.
When police arrived, Mr Morris told them he thought that he was "a gonner".
Sheriff Wyllie Robertson was shown CCTV footage of the incident at Stirling Sheriff Court, where Gilchrist pled guilty to assaulting Mr Morris to his injury and danger of his life on 2 June last year.
She admitted driving the car at him, hitting him, causing him to jump on the bonnet and driving at speed and from side to side through streets in Falkirk with him on the car.
The sheriff said it was a grave offence and decided to jail her earlier this year, telling her she would have received a four-and-a-half-year prison term, but for her guilty plea.
Harsh sentence
Gilchrist challenged her sentence following the sheriff's decision.
Her solicitor advocate Simon Collins argued at the Court of Criminal Appeal in Edinburgh that the sentence should be quashed and a lesser term imposed following her guilty plea.
He said that in the circumstances of the case the amount of discount she received was "harsh and unfair" on her.
Lord Eassie, who heard the appeal with Lord Wheatley, said it might be thought that the percentage of reduction in Gilchrist's sentence was "somewhat niggardly" but it was within the sheriff's discretion and they would refuse the appeal.