Angus' newest golf course designed to be world-class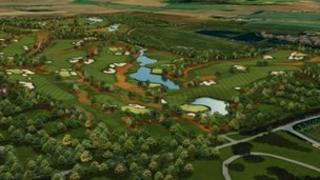 The team behind a new 18-hole championship golf course being built near Carnoustie will set out the greens and tees next month.
The course at The Angus is being created by last year's Open Champion Darren Clarke with the help of specialist designers.
Located in Kingennie, the course will form part of the region's first five-star resort.
Work on the £60m project is expected to begin in spring 2013.
In addition to the Darren Clarke course, the resort will feature a five-star hotel with spa, leisure facilities and lodges, a golf club, golf academy and private housing.
Job creation
The development is adjacent to the Forbes of Kingennie Country Resort, owned by local businessman Mike Forbes, who has been working with Angus Council for two years to bring the plans to fruition.
The new facility is expected to create 200 full-time jobs after completion, with 300 posts generated during construction.
Inverurie-based golf course designers Team Niblick have been working with the Northern Irish golfer to create a "world-class" course.
Graeme Webster, from the company, said: "It's been exciting to work with Darren as he and I share similar views on what makes a golf course, challenging, rewarding, exciting, fun and thoughtful to play."
Mr Webster said working with the natural topography of the land during the design process had been inspiring and the team had worked to give golfers views towards Carnoustie, the Tay Bridge and Fife.
Challenging design
Mr Webster said: "Darren and I have created a golf course that will get strategically harder in shot selection as the golfer gets better.
"Golfers as talented as Darren will often choose the heroic route and when the shot comes off they will be putting for eagles and birdies but, those slightly less gifted will still face a shot selection challenge more suited to their ability.
"Ultimately, we want people to come off the course with smiles on their faces and make it a pleasurable experience that they want to repeat."
Mr Clarke said the location offered the potential for a world-class championship golf course.
He said: "A successfully designed course leaves you with a fantastic feeling coming off the course and we wanted players to enjoy that same feeling on every single hole.
"This will be a world-leading resort in the heart of the home of golf and I cannot wait to strike the first ball."
The designers said they hoped the course would feature in future tournaments as they had tailored the design to accommodate tournament vantage points and the safe movement of thousands of spectators.